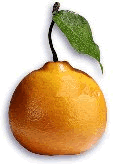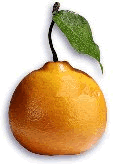 First and Last Pick
You'll enjoy receiving our famous honeybells with shipments from the first pick in early January and the last pick in late January. Both boxes are filled with premium quality honeybells that are loaded with delicious juice, unique in flavor. A joyous way to send your greetings twice!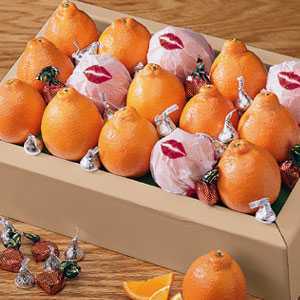 Honeybell Kisses
He was sitting at his desk (John D. our Packing House Manager), juice all over the place, snacking on a couple of tiny HoneyBells. "These are my favorites" he said, " I think they're the sweetest. They're like little HoneyBell kisses." There you have it. And here they are in a delectable new gift called…HoneyBell Kisses, presented nicely with Chocolates and Strawberry Bon Bons in a special gift box for someone you'd like to send a (HoneyBell) kiss to.
Giant Honeybells
w/ 2 FREE Spoons!
Finally invented...a relatively neat, convenient and civilized way to eat and enjoy Cushman HoneyBells - and it's a terrific gift! (For the uninitiated, you need to know HoneyBells are very, very juicy.)

The fun begins on a cold January day, when your gift recipient opens the hefty box of Cushman HoneyBells that arrives bearing your name as the generous and thoughtful sender. They may not believe their eyes when they see you've sent them a full dozen Jumbo HoneyBells, each the size of a small grapefruit. Actually, these guys are so big, if you hold one in each hand and then step on a scale, you'll gain almost 2 pounds. Amazing!

Here's the clincher. Your friends will also find a pair of specially designed and serrated HoneyBell Spoons - perfectly "bite-sized" for eating and serving our huge and juicy HoneyBells. No more dilemmas about how to enjoy this fruit that puts juice running down your chin. Just cut it in half, then scoop it out by the spoonful. Plus, we'll include an easy dessert recipe for Instant HoneyBell Sorbet for 3-gifts-in-1!

Finally - the perfect gift for someone who doesn't quite have everything...yet.