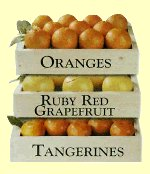 Triple the Treats

Three variations on the same theme...All citrus each with it's own naturally appealing characteristics.

Stately Oranges of the season, perfect for eating or juicing.

Ruby Red Grapefruit, sweet sugar from Indian River, good to eat and very good for you.

Sweet Tangerines, energy-packed and delicious, are great to pack for lunches and picnics.

This tempting trio poses an interesting dilemma...which to eat first?